Artistic hand-made meal using seasonal marine foodstuffs and land-based foodstuffs. Omi's seasonal taste and joy is elegantly displayed on a plate.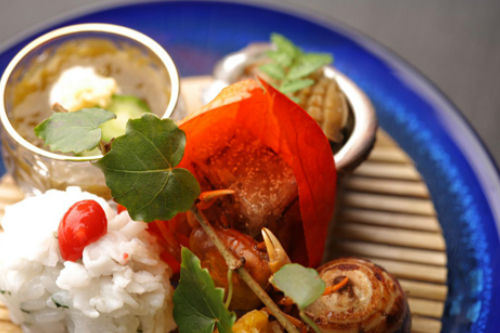 We, Biwako Ryokusuitei, use seasonal ingredients so that customers feel the change of the seasons by our meal. Based on our policy that all foods should be freshly cooked and served at their best, some are served hot and others are served cold.
The beef used in one of the meals from our course dinner is Omi Beef, Japanese Black, which has been raised longest in Shiga Prefecture. Omi Beef is recognized by the Japan Patent Office as a regional brand of beef. Its meat quality is highly reputed all over Japan, which is markedly marbled with rich flavor and gives melting-like palate feeling.